Create a new engine model #
Overview of Schemas #
Each Schema represents and allows you to manage a set of aspects of the data model, including the structure of the information on the database, the representation of the data in graphical interfaces, and the data permissions. In the Designer, Schemas are transparent views on the same class diagram.
Switching between Schemas the engine model does not change; what changes is the information that is shown and the operations that can be performed. Thanks to this representation, the modeller can concentrate on a subset of information, without ever losing sight of the diagram of the underlying classes.
Schemas are organized according to a hierarchy that has the Database Schema at the lowest level, the Application Schema at an intermediate level, and the Profile Schema at the top.
Localization Schemas are somewhat independent of this hierarchy, and allow the engine model's localization strings to be modified by language.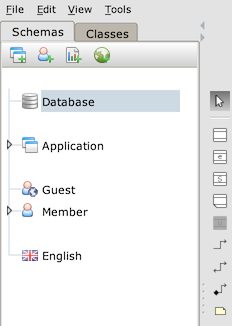 To switch between Schemas, use the Schemas tab on the left side of the Designer.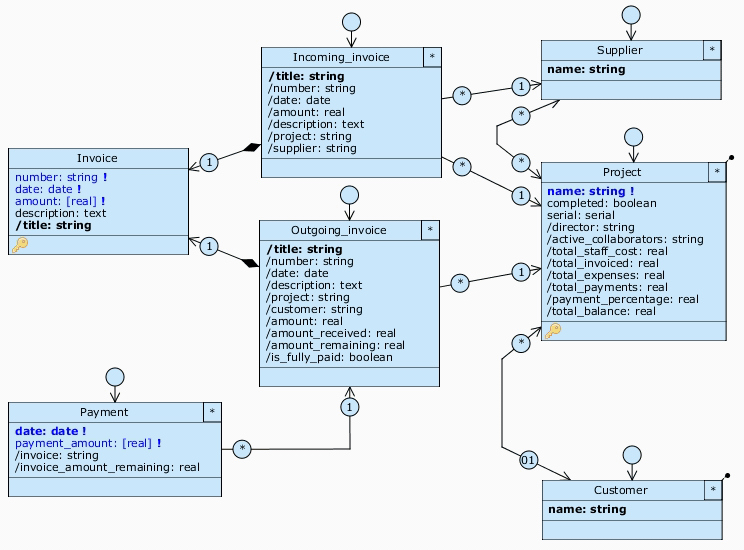 Database Schema #
Application Schema #
Profile Schema #
By default, only one Application Schema (Application) is defined in the new engine models with all classes enabled, and two Profile Schema, Member (related to users registered on the system) and Guest (related to unregistered users). Through the Member Schema, users have access to the entire engine model with full read and write rights. The Guest Scheme, on the other hand, by default does not allow access to any application.
Localization Schema #
There is a Localization Schema for each language enabled within the generated application. More information is available on the dedicated page.